To service our members at the times that best fit their schedule, we are updating the hours at our drive-up in Keyser:
Effective Monday, June 8
Keyser Drive-up Hours
Monday
8:30 AM – 5:00 PM
Tuesday – Thursday
9:00 AM – 5:00 PM
Friday
8:30 AM – 6:00 PM
Saturday
8:30 AM – 12:00 PM
Stimulus Payments
Federal Government COVID-19 stimulus payments began posting on Wednesday, April 15 and will continue to be distributed over the next several weeks. The best way for you to know when your deposit has posted is by using our PAL Plus Online Account Access and/or WEPCO Mobile App services to view your accounts. Additionally, the WEPCO Mobile App will show you upcoming deposits to your account. Please keep in mind that your payment will be sent in the same manner and to the same account as your 2018 or 2019 tax return. Payments by check will be mailed out starting Monday, April, 20 and should arrive to the address listed on your 2018 or 2019 tax return.
For additional information, please visit the IRS website at www.irs.gov/coronavirus/get-my-payment.
We're Here for You During this Trying Time
We understand that times are tough and we are here to help our community and our members. We are now offering the following options to you and your family during this uncertain time:
New COVID-19 Relief Loan at 1.99% APR* with no payment or interest for the first 90 days
Please call us at 800-292-8139 for more details and continue to stay safe!

*New Money Only. Limit of $5,000. Credit subject to approval. A $3,500 loan at 36 months would have 0% APR for the first 90 days, then 36 monthly payments of $100.24 at 1.99% APR. Terms and conditions apply and are subject to change without notice. Equal Opportunity Lender.
Working Together – Prevent the Spread
The U.S. Attorney General and several medical experts have warned that the country will be facing the peak of the Coronavirus pandemic in the next several weeks. It is vital that every American follows social distancing and only travel for essential needs.
We are doing everything to follow federal and state directives for protecting you and our employees and still offer you essential banking services. For the health and welfare of our communities, we are asking that you follow these same directives. Because many of our banking services can be done electronically from the comfort of your home, please visit our branch locations only as needed. By conducting your business in one trip, you'll do your part in limiting your travels and staying home as directed by your state governor.
If you are looking for a loan, please call us to make a loan appointment.
If we all do our part, we can prevent the Coronavirus from spreading. Let's unite as a community, and do everything we can for each other!
Beware of Coronavirus Scams – Stimulus Payments
The federal government is preparing a $2 trillion stimulus package to help Americans through the Coronavirus pandemic. It includes several benefits, such as stimulus payments for all Americans.
Whenever there is a stimulus package, there are scammers ready to exploit it. They're sending emails supposedly from the government asking for their personal or banking information, so that they can send their stimulus payment now. They're false because it will take at least several weeks for the government to send them out.
If you get this type of email, do not respond to it or click any of its links or attachments. Delete it, and report the scam to the Federal Trade Commission at ftc.gov/complaint.
Be a WEPCO Hero!
Governors Larry Hogan and Jim Justice have told residents to stay home and travel only for essential needs. You have the power to do your transactions from the comfort of your home. You'll save lives by preventing the Coronavirus from spreading.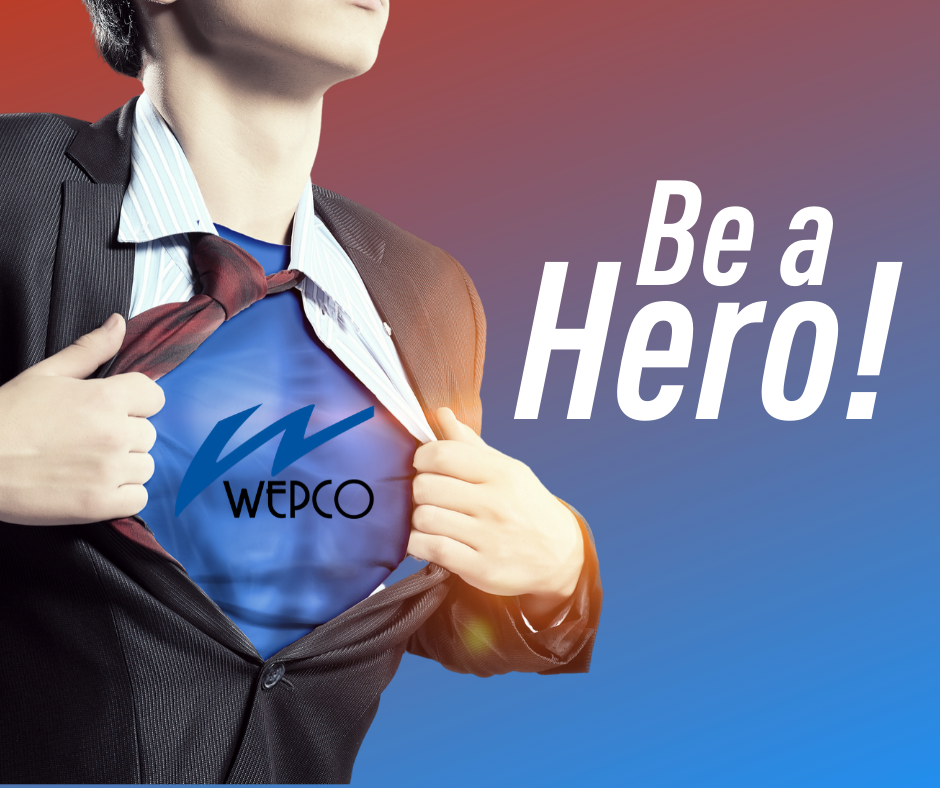 WEPCO Mastercard Debit:
Make your purchases online through our debit card with the added security of EMV chips
PAL Plus:
Check your balances and transfer funds between your accounts online
WEPCO Mobile App:
Check balances and transfer funds through your smartphone
Bill Payer:
Pay your bills online or through your phone
Money Manager:
Manage your finances with us and other financial accounts online
Mobile Check Deposits:
Deposit your checks through the Remote Deposit Capture service of our Mobile App
To add these services, please call 800-292-8139.
Expanded Drive-up Hours
We're doing more for you! To continue providing the best essential service to you, we are expanding our drive-up hours.
Keyser Drive-up Hours*
Effective Monday, March 30
Monday – Thursday
8:30 AM – 5:30 PM
Friday
8:30 AM – 6:00 PM
Saturday
8:30 AM – 12:00 PM
Oakland Drive-up Hours*
Effective Monday, March 23
Monday – Thursday
8:00 AM – 5:00 PM
Friday
8:30 AM – 6:00 PM
Saturday
9:00 AM – 12:00 PM
*Times are subject to change without notice
We're here for you as an essential service of the community. We have several ways you can do your transactions quickly and easily:
Night Depository: Deposit cash or checks any time at your convenience
ATMs: Withdraw cash any time with your debit card
PAL Plus: Transfer funds, check balances, and pay your bills online through your PC
WEPCO Mobile App: Transfer funds, check balances, pay your bills, and deposit your checks through your smartphone
If you would like any of our electronic services, please call 800-292-8139.
IMPORTANT NOTICE:
Based on the ongoing events of the coronavirus pandemic, we have a moral duty to protect our members and employees, and we must take actions that ensure the safety of both while still providing member service.
Effective immediately, we are closing the lobbies to all our locations. All drive-ups and ATMs will stay open, and all loans will be made by appointment only. We regret this inconvenience, and we thank you for staying with us during this time.
WEPCO Federal Credit Union is committed to providing you exemplary member service and protecting you and our employees from the coronavirus pandemic. It is vital that you have access to your money, while we follow the guidelines for the safety of the communities in which we serve.
At this time, please refer to our Locations & Hours page for our current business hours and services.
To protect both you and employees, we have taken these preventative measures at our locations:
Daily cleaning and disinfecting of all our offices
Washing hands frequently
Encouraging the use of our online banking, mobile app, and mobile check deposits
Checking for updates and following guidances daily from federal, state, and local officials
Your funds with us remain federally insured by NCUA. They are safe, regardless of what happens in the stock market.
The Federal Trade Commission (FTC) has also warned about coronavirus scams. Be on the lookout for any of these scams: phishing emails supposedly from the Centers for Disease Control and Prevention (CDC) or medical experts, online offers of a vaccine or miracle cure, or fraudulent charities. For more information, visit the FTC's website in the links below.
CDC's Coronavirus Page
https://www.cdc.gov/coronavirus/2019-ncov/index.html
World Health Organization's Coronavirus Page
https://www.who.int/emergencies/diseases/novel-coronavirus-2019
Coronavirus Scams:
https://www.consumer.ftc.gov/features/coronavirus-scams-what-ftc-doing
Downloadable Activities to Keep Your Kids Busy and learning:
https://www.wepcofcu.com/site_content/site_assets/files/WEPCO_Westernport_Subway_Colorin.pdf
https://www.wepcofcu.com/site_content/site_assets/files/WEPCO_Westernport_Subway_Workshe.pdf