2022 WEPCO Scholarship Award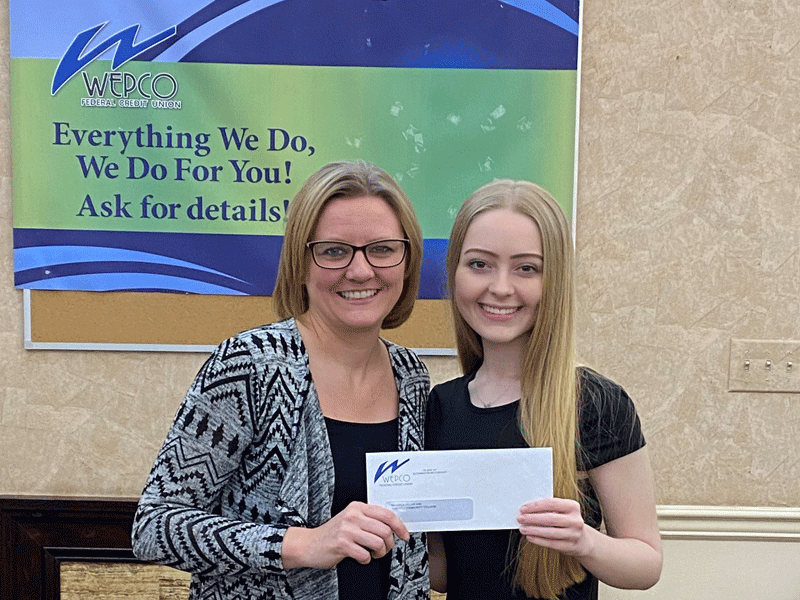 We are proud to announce Makayla Miller as the recipient of our 32nd Annual WEPCO Federal Credit Union Scholarship Award!
Makayla is enrolled this fall as a pre-nursing major at Garrett College through Allegany College of Maryland. She is a 2022 graduate of Southern Garrett High School, where she was a dual-enrolled college student, member of the yearbook staff and was a guidance aide. She was also named to the National Honor Society as well as the Distinguished Honor Roll and Distinguished Scholar.
Makayla recently received her Maryland Board of Nursing CNA. She is currently employed as a clinical assistant at Magnolia Urgent and Primary Care. She attends Loch Lynn Church of God, and has assisted in various rules within the Kidzfactory and youth praise team. Makayla is the daughter of Wayne and Theresa Miller of Oakland, Maryland.
The WEPCO Federal Credit Union Scholarship is an annual award based on an essay about the applicant's aspirations, goals and why WEPCO should select them, their GPA, extracurricular activities, and community involvement! If you are a member of WEPCO and currently are or will be attending college in the fall of 2023, we encourage you to apply for our scholarship next year. For more information, contact us at 800-292-8139.
Pictured with Makayla is Rachel Ford, Oakland Branch Manager